We are specialist in all kind of shipments. Located in Rotterdam we offer the possibility to transport doesn t matter you requirement to all over the planet.
Shipping freight forwarding (FAK)
Less than Container Load (LCL)
Full container load (FCL)

Ro/Ro Cargo

Air freight transport
Local truck
Export papers
Customs clearance
EMO Transport
Fumigations
Insurance
Storage, temporal admissions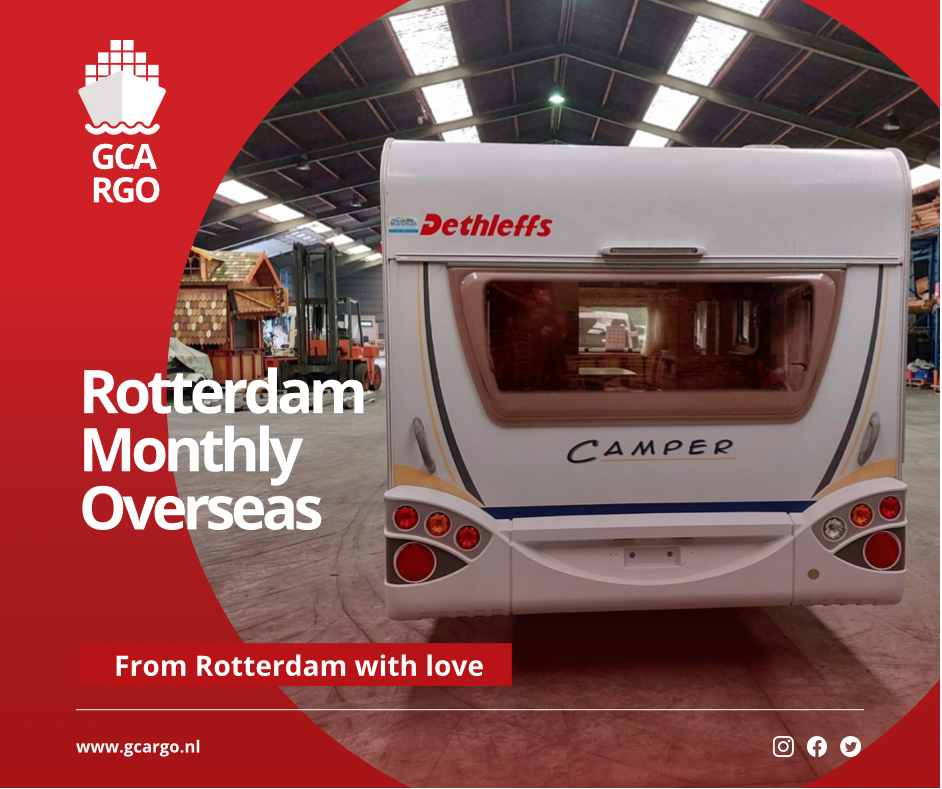 Freight forwarder services and solutions to
Agriculture
Automotive
Boats
Breakbulk
Caravans
Construction
Equipment Mining
Equipment Machinery
Motorhomes
Power Equipment
Railcars and Tramways
Trucks, Buses and Trailers
Wine transport by Flexiwine
Agriculture, Agricultural machinery can most often be driven on board which enables a cost efficient transportation. Any accompanying pieces are transported on our roll trailers or as forkliftable units lashed to the vessel deck.
Automotive, It is safe to say that we know what we are doing and we have long experience in this industry.

Boats, Due to the nature of this commodity, yachts and boats fit perfectly wide range of roll trailers. With lengths ranging from six to 24 metres, we can accommodate. For wider boats such as catamarans, we use our Double-wide roll trailer concept, which involves two 40 feet roll trailers positioned side-by-side, joined together by a coupling system. Transportation of boats is either on their own trailer or on a roll trailer – with or without a cradle. 
Breakbulk, Breakbulk, project and other out of gauge cargo we use our modern and specialised roll trailers. The roll trailers are specially designed for smooth and safe transportation of heavy and/or long breakbulk cargo.
Construction Equipment, Construction machinery is typically shipped as rolling units, but we also accommodate partly dismantled units. Our experienced cargo handling personnel work with our customers to find the most suitable transportation solution for their cargo 
Mining Equipment, We can cater for a wide variety of heavy cargo both self-propelled and static such as drilling rigs, dump trucks, mining excavators and mobile crushing and screening equipment. We carry equipment for open pit and underground mining. Our experienced cargo handling personnel ensure that whatever the shape of your units, we will find the most efficient and safe solution for their transportation
Machinery, These units are static and are transported on our roll trailers where they are lashed to the deck. Machinery is often highly sophisticated cargo and must be handled with the greatest care. By transporting the units on roll trailers we ensure the machines are safe and secure throughout the entire voyage.
Power Equipment, Power generation and distribution equipment is sophisticated high value cargo with large dimensions. Due to the sensitivity of this cargo, it is usually packed by the manufacturers or dedicated packing companies. When we transport the cargo it will first be safely lashed on to our roll trailers and then to designated lashing points on deck.
Railcars and Tramways, To remove the risk of damage to cargo during transport, we have developed our own bridges that make the transfer from truck to roll trailer very smooth. The bridges eliminate the need for crane lifting in both load and discharge port as the railcars can be directly rolled on and off the roll trailer, which is equipped with rail tracks. This makes the operation safer and less costly than with crane lifts.
Trucks, Buses and Trailers, The Pure Car and Truck Carriers (PCTC) are optimal for the transportation of large rolling units such as trucks, buses and trailers. Motorhomes and Caravans are other cargo types that fit our vessels perfectly. The wide ramps on our vessels enable easy manoeuvrable driving and loading for wide and long units while the many hoistable decks offer abundant space for high cargo.
Wine, We use flexiwine to bulk transport of wine from Chile. Also wine in boxes. Information referential. Contact Us, Erick Gutis. Sales Repr.
Destinations transport from Rotterdam To everywhere and expert to:
Asia
China All
Thailand BKK
Viet Nam HCM
North America
USA, San Francisco
Mexico, Manzanillo
South America
Chile Valparaiso, San Antonio, Iquique
Ecuador, Guayaquil
Peru, Callao
Quote Here / eg@gcargo.nl